Blocs de contenu
Contenu
Share price history
The BOIRON share price closed 2020 at €41.35, up 13.6% from €36.40 on December 31, 2019. The BOIRON share price peaked at €44.80 during the October 8, 2020 trading session and fell to a low of €26.75 during the March 12, 2020 trading session. Over the year as a whole, 2,195,567 shares were traded, an average of 8,543 shares per trading session.
Compared to 2019, the number of shares traded in 2020 fell 6% and represented 13% of the company's share capital.
Stock market price
Click on the picture to follow the stock market price.
Contenu
Share details
ISIN code : FR0000061129 (BOI)
LEI code : 9695000UMPNY21KKDO98
Reuters : BOIR.PA
Bloomberg : BOI FP
Closing date : December 31
Share listed on EURONEXT PARIS – Compartment B
Share included in indices: Euronext CAC ALL SHARES, CAC ALL-TRADABLE, CAC HEALTH CARE, CAC MID&SMALL, CAC SMALL, EN FAMILY BUSINESS, EN TECH CROISSANCE, FAS IAS and GAIA indexes
Etablishment in charge of managing shares : BNP PARIBAS Securities Services
Market making agreement :NATIXIS ODDO BHF
The ex-dividend will be carried out on June 2, 2021.
Dividends will be paid out on June 4, 2021.
Contenu
BOIRON share price history
| | |
| --- | --- |
| 1987 June | Entry of BOIRON shares to the Second Marché of the Lyon Stock Exchange. |
| 1992 June | Issue of a convertible bond issue for 150.41 MFRF. |
| 1994 November | Admission of BOIRON shares to the SBF 250 index. |
| 1996 June | Advance reimbursement of the convertible bond issue. |
| 1999 May | Launch of a share buy-back program. |
| 1999 December | Cancellation of 111,739 shares acquired by the company within the framework of a share buy-back program. Reduction of the share capital from FRF 127,283,500 to FRF 124,490,025. |
| 2000 November | End of the share buy-back program launched in May 1999. |
| 2000 December | Cancellation of 311,601 shares acquired by the company within yhe framework of a share buy-back program. Reduction of the share capital from FRF 124,490,025 to FRF 116,700,000. |
| 2001 May | Launch of a new share buy-back program. |
| 2001 December | Conversion of the share capital to Euros on January 1, 2002. Fixing of the face value at 4 euros. Capital increase through the incorporation of reserves in the amount of FRF 5,780,291 from FRF116,700,000 to FRF122,480,291, i.e. €18,672,000 divided into 4,688,000 shares of 4 Euros each. |
| 2003 May | On July1, 2003 division of the face value of the share by 4 Euros.The share capital has been set at €18,672,000 and dividend into 18,672,000 shares of 1 Euro each. |
| 2005 June | Merger with LABORATOIRES DOLISOS and resulting increase in capital of €3,334,286 through the creation of 3,334,286 new shares. The share capital amounts to €22,006,286 divided into 22,006,286 shares of 1 Euro each. |
| 2006 May | Launch of a new share buy-back program. |
| 2007 May | Launch of a new share buy-back program. |
| 2007 December | As from January 1,2008 cancellation of 58,720 shares acquired by the company within the framework of the share buy-back program. reduction of the share capital from €22,006,286 to €21,947,566. |
| 2008 May | Launch of a new share buy-back program. |
| 2008 December | As from January 1, 2009, cancellation of 213,038 shares acquired by the comapny within the framework of the share buy-back program. Reduction of the share capital from €21,947,566 to €21,734,528. |
| 2009 May | Launch of a new share buy-back program. |
| 2009 December | As from January 1,2010, cancellation of 251,972 shares acuired by the company within the framework of the share buy-back program. reduction of the share capital from €21,734,528 to €21,482,556. |
| 2010 May | Launch of a new share buy-back program. |
| 2011 May | Launch of a new share buy-back program. |
| 2012 May | Launch of a new share buy-back program. |
| 2012 December | As from January 1, 2013, cancellation of 2,040,843 shares acquired by the company within the framework of the share buy-back program. Reduction of the share capital from €21,482,556 to €19,441,713. |
| 2013 May | Launch of a new share buy-back program. |
| 2014 May | Launch of a new share buy-back program. |
| 2015 May | Launch of a new share buy-back program. |
| 2016 May | Launch of a new share buy-back program. |
| 2017 January | As from January 1, 2017, cancellation of 26,957 shares acquired by the company within the framework of the share buy-back program. Reduction of the share capital from €19,441,713 to €19,414,756. |
| 2017 May | Launch of a new share buy-back program. |
| 2018 May | Launch of a new share buy-back program. |
| 2018 October | As from October 30, 2018, cancellation of 1,849,196 shares acquired by the company within the framework of the share buy-back program. Reduction of the share capital from €19,441,756 to €17,565,650. |
| 2019 May | Launch of a new share buy-back program. |
| 2019 December | As from December 31, 2019, cancellation of 20,152 shares acquired by the company within the framework of the share buy-back program. Reduction of the share capital from €17,565,650 to €17,545,408. |
| 2020 May | Launch of a new share buy-back program. |
| 2021 May | Launch of a new share buy-back program. |
Contenu
Share capital breakdown as of December 31, 2020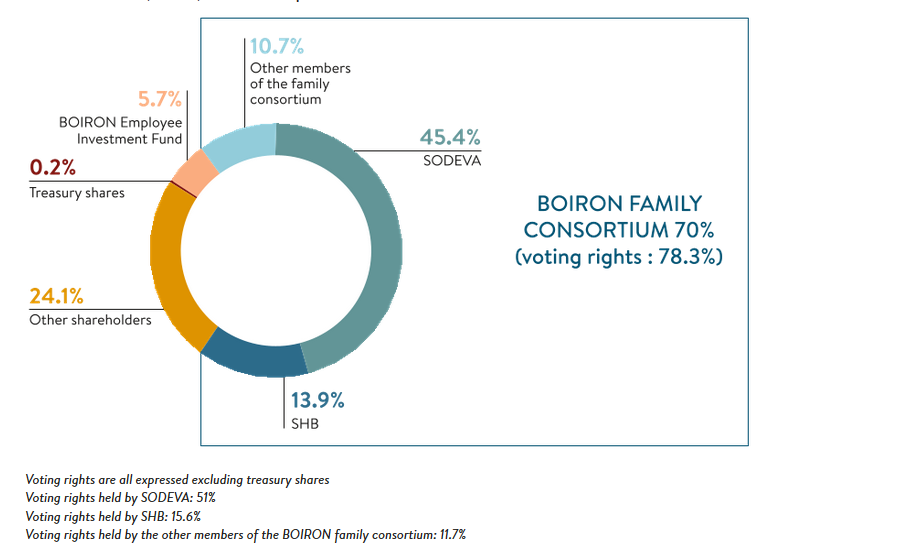 Information concerning the total number of voting rights and shares that make up the Company's capital
Déclaration des droits de vote au 30 avril 2023 (only in French)
Déclaration des droits de vote au 31 mars 2023 (only in French)
Déclaration des droits de vote au 28 février 2023 (only in French)
Déclaration des droits de vote au 31 janvier 2023(only in French)